Due to the technical difficulties posed by not being a website designer, I missed a month or two on updates. Still, I when I did get back on, I was pleased to see comments (thank you all!). I hope to be more diligent now in my postings.
In the interim, I completed the wall using scrap rock from the original wall plus whatever else was lying about.  The rock-a-day technique worked well, and without the Bobcat I might add, which, while desperately needed for other projects around here likely would not have worked so well.  Hand-placing the rock was the key, and over the course of about 3 weeks, I was able to create a two-tiered wall now planted with fern and a creeping evening primrose. Money saved on equipment rentals, however, was money spent on massages to relieve the re-emergence of my long-running thoracic outlet syndrome  (http://www.ninds.nih.gov/disorders/thoracic/thoracic.htm).  One saving grace has been my father's motorized dumping wheelbarrow with an 800 lb capacity. With it, I have already moved several thousand pounds of rock around the yard for a variety of smaller projects. Although I am normally adverse to loud, motorized equipment, it has made my life much easier and saved me many sleepless nights with shooting nerve pain.
When I was not moving rocks, I began preparing the front yard.  [At this point, those in the know may feel free to comment upon my methods, which are derived from a combination of experience, book-learning, and educated guesswork.]  From a local farm, I obtained 10 yards of heat-treated horse manure/chips/sand and rototilled it six inches into the sandy clay soil that represents the efforts of one of my father's past wives. I also reconstructed the walk from the pavers not broken by my father's excavator excursions to lead visitors through the gazebo and to the front door.  The plan, based upon reading my landscape design books, is to draw visitors away from the kitchen door, which is misplaced on the front of the house, and to the more formal 'front' door which leads directly into the living room. The yellow gazebo will be reinforced and painted a warm grey and the cement overlain with tiles. Cement planters with benches will be installed to the right to cordon off a part of the patio for entertaining. A perennial garden in purple and violet tones will grow between the walk and the patio, a lawn to left flanked by a Japanese maple and the neon blue hydrangea. Foundation plantings of red pygmy barberry will flank the reddish brick wall, while to the right of the door, a white azalea and small rhodoendron will provide a visual draw toward the door.
To the right in the overview photo  is the nascent perennial garden featuring several types of Salvia (my fav genus), Miscanthus, Dianthus, Penstemon, and Hosta in the shade. To the left will be a narrow strip of grass sweeping around the cedar, beneath which will grow a selection of NW natives and shade-tolerant plants, including a grove of sword fern, woodfern, bunchberry, Oregon oxalis, Hellebore, salal, Mitella, and others. I have even added half of a Douglas fir log behind the neon blue hydrangea in which I hope to cultivate licorice fern. (I will be adding a plant list here shortly from the Excel file that I am keeping).
The beans, squash, peas, cucumbers and potatoes, however, are not a part of the long-term plan. Reading about the best time to seed a northwest lawn, I have elected to wait until September to further till and refine the soil for planting grass seed. Meanwhile, I have planted a sward of leguminous crops along with a few other tasty species to add nitrogen and out-compete the weeds. So far, the growth from my early June plantings has exceeded my expectations and yields of snow peas and yellow squash are beginning to outstrip our capacity to eat them. The notable exception is the pole beans, which dominate the scene on tall bamboo frames at seven feet and growing. I believe that the high-nitrogen mix that I applied has encouraged them to grow only leaves, for I am still awaiting the beans to emerge from the lush vegetation.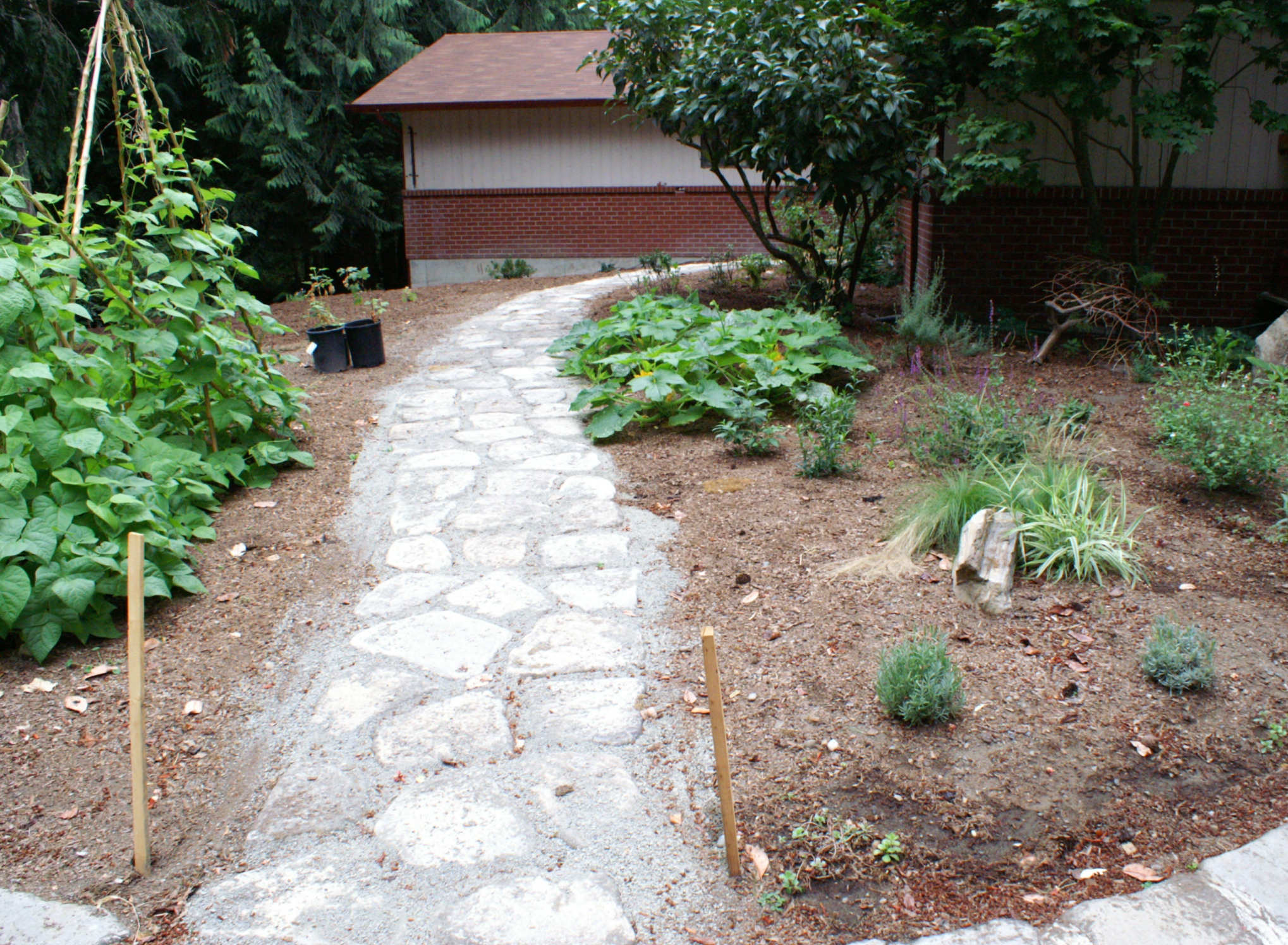 As a break from all of that, I also constructed a modest pool with a foot-high falls.  Ferns and large-leaved plants yet to be chosen will grace the now arid borders. The climbing rose will be leaving the scene too, perhaps to be espaliered on a wall. For now, I have a few Spirea, Japanese blood grass (in pots, so they stay put), Ribes sanguinum, horsetail, Alaska fern, lady fern, sword fern, and a lonely bog rosemary. The story of the pool will follow later, including my experimentation with building techniques for those who might want to try this at home.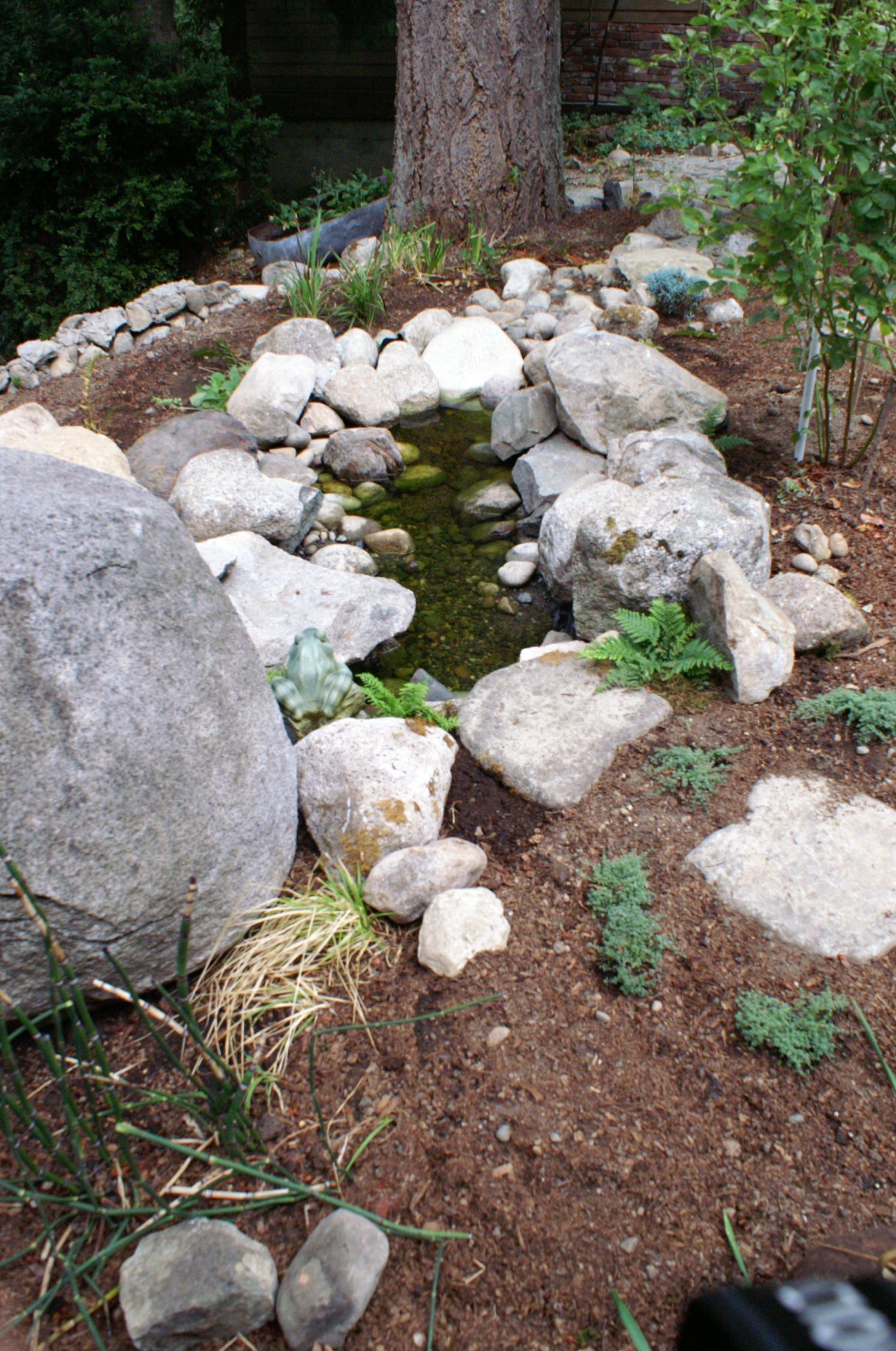 Now, as the July sun wanes and the August sky is cloudy and threatening rain, I stand back and feel a mixture of pride and concern. It still doesn't look quite as I'd hoped; I have a substantial budget, but not enough to spend on large numbers of expensive plants. My shopping techniques range from Lowe's and Home Depot bargains, local nursery 50% off sales, natives from other parts of the property, freebies from volunteer work that I am doing in my horticulture class, and a few splurges for nice, full-price selections.  There are most definitely gaps. Materials are hauled in pickup truck, and the work is solely my own.  I  am beginning to explore the limits of my own 42-year-old body, seasoned as it may be from years of running and hiking, and the natural impatience that I have also exhibited towards things that take more than one year to complete.  I realize once again, that this is an exercise in how things are done, a lesson in the patience of time. Soon enough, September will come and I will be taking two more horticulture classes, and maybe,  just maybe, taking the time to care of myself. I miss yoga, I miss my art, there is a meditation group I want to join.  The rains will buy me time to slow down and savor the slow passage of time as the things that I have begun mature, and new ideas emerge.
For additional reading on the progress of the back 10 acres, see "Hinterlands".