Yes, that's one botanical garden in Anchorage for the entire state of Alaska, which could perhaps be argued to be so beautiful as to not need one.  But I was working in Alaska for weeks at a time and needed something to do on the weekend, so I went and was pleasantly surprised. I'd not seen much in the way of unique plants or landscaping in my forays about town, nor had I found the High North to exhibit much in the way of plant diversity, for obvious reasons. Yet I found a host of new plants to consider for my own garden, and considering that translating foward a zone or two (from cold to warm) couldn't be that difficult, I took away quite a few photos and ideas.  Plus I've a new garden to add to my botanical garden 'life list'.
I was also looking for the legendary AK Very Large Vegetables, and found a few of moderate size in a mixed planting that emphasizes the new fruit-and-flowers movement.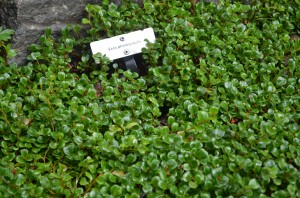 In the northern regions, small is a survival strategy, and I was particularly impressed with the minature willows as a groundcover (Salix phlebophylla in this photo). Now to find them locally.
I love the naturalistic look of this raised bed rock garden that mirrors the low impact, low cost approach I use.
A great idea for an easy path border of native materials.
I could use my abundant willows.  The posts are cement, the sides woven twigs. Several hundred feet worth.
The blue arctic poppies were among my favorite flowers.
A reminder that a Shieldleaf Rodgersia would look great around the lake.
This what I'd like the forest floor around the buildings to look more like. I'm contemplating purchases of native seeds.
Wish I could do this but maybe in a few years with more skills and $